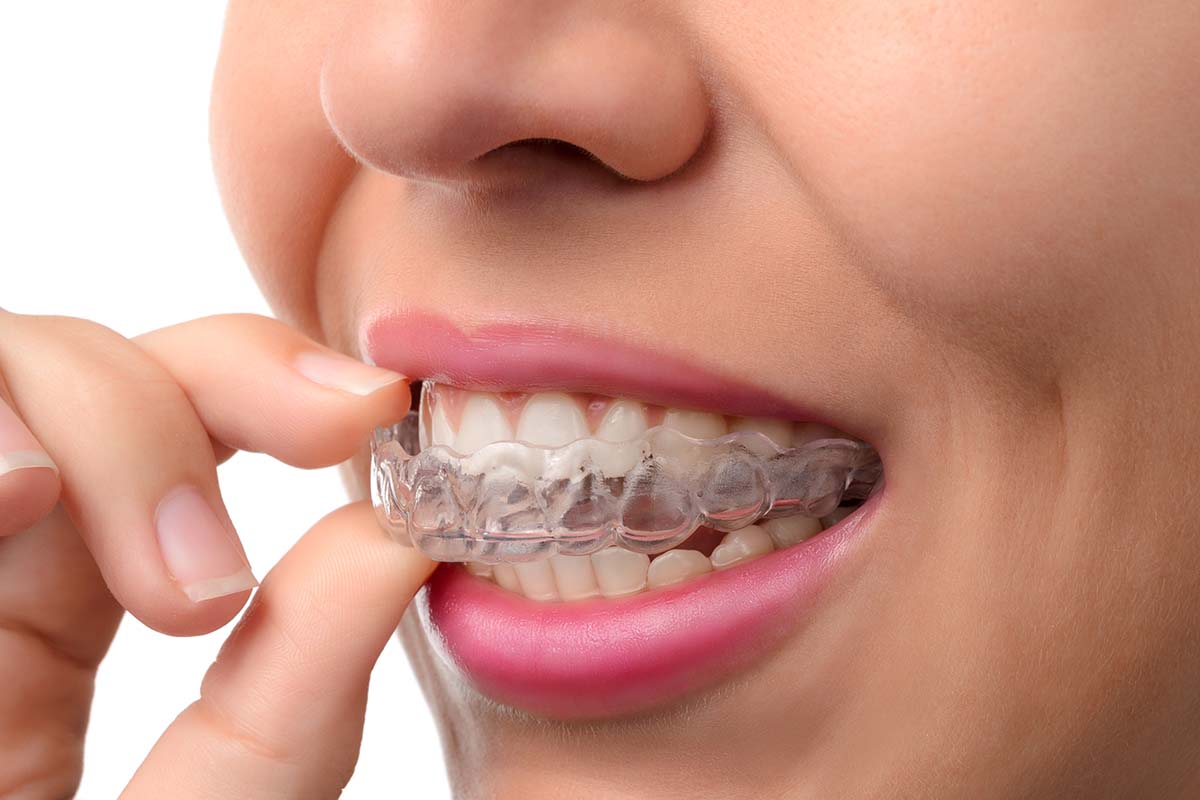 If you're thinking about straightening your teeth, you have two options: Visit an orthodontist or use an at-home tooth straightening kit. When it comes to straightening your teeth, there are two main options—braces or invisalign. Braces require you to wear plastic brackets that attach your teeth and move them into place with wires or bands. The process takes about two years on average and requires regular visits to your best orthodontist in Richmond Texas so as to monitor your progress and make adjustments as needed.
Invisalign is similar to braces in that it moves your teeth into place by moving them in small increments over time. But unlike braces, invisalign uses clear plastic aligners instead of braces, which makes this option more discreet than traditional braces since they aren't visible when wearing them!
At-home tooth straightening kit
Many people who want to straighten their teeth opt for at-home teeth straightening kit. A teeth straightening kit is popular because it is cheap and convenient, but some are better than others. You can get started immediately and wear your retainer for a few minutes each day. One can even purchase at home braces kit which is effective as well. Although you can get good results with them, there are some drawbacks to using an at home braces kit that you should know about before you spend your hard-earned money. If you're considering a home tooth straightening kit, you may want to rethink your decision.
Also, at-home teeth straightening kit can be a great option when you have a minor case of crooked teeth or mild spacing issues. However, they're not the best choice if you want to correct more significant issues like overbites, underbites, and jaw misalignment. Everyone has different reasons for wanting straight teeth, but the most common reason is cosmetic. Straight teeth look better and make it easier to eat certain foods.
See also: Lingua Braces in Suger Land Texas
Visiting orthodontists
Your best orthodontist in Richmond Texas can help you get straighter teeth by using braces or other types of dental appliances. Braces help move teeth into the right position by gradually stretching the jawbone and gum tissue that holds your teeth in place. The process takes anywhere from a few months to several years, depending on the severity of the problem. And on top of it all, there are many benefits and reasons to go to an orthodontist.
Benefits of using an at-home teeth straightening kit
Consumes less time
With the right at home teeth straightening kit, you can get your teeth straightened in no time. You don't have to wait in line or wait for an appointment. Ateeth straightening kit consumes less time than visiting the orthodontist or dentist. You can even do it while watching TV or reading a book. Correcting misaligned teeth becomes easier with the help of a good at-home teeth straightening kit.
Are convenient
The biggest benefit of using an at-home tooth straightening kit is convenience. You can do it in the comfort of your own home, so there's no need to travel anywhere or make an appointment with your orthodontist. You can also complete the entire process in just a few minutes, which is much faster than having your teeth straightened by an orthodontist.
Affordable
Another benefit of using at-home tooth straightening kit is that it's much more affordable than having them professionally straightened by an orthodontist because you're doing it yourself and not paying for their services or products every month. This includes at home braces kit. Most people find this option appealing because they don't have to spend thousands of dollars on professional appliances when you can just opt for at home braces kit.
The average cost for one visit to a dentist can be averagely $200 or more. This does not include the cost of any additional products or services that you might need. On the other hand, you can purchase an at home teeth straightening kit for less than averagely $100 and use it repeatedly until you achieve the desired results.
They are adjustable
Another advantage of at home teeth straightening kit is that it is adjustable — so if your teeth shift during treatment, you can adjust them again without having to start all over again with new aligners or wires.
At home teeth straightening kit also make it easier for people who don't have dental insurance to get orthodontic treatment because they're often less expensive than going through an office visit first and then paying out-of-pocket afterward.
Ease of use
Straightening your teeth at home is easier than you might think! Teeth straightening kit comes in handy and is easy to use with some bit of instructions. All it takes is a little practice and patience to wear the aligners consistently throughout your day, like normal teeth cleaning habits.
.No pain involved
Finally, there is no pain involved in using teeth straightening kit. You won't need any numbing medicine or needles during the procedure because it will be done through heat instead of cold temperatures, like most orthodontists use when they work on their patients' teeth.
Reasons to go to an orthodontist
Orthodontic problems are common, and most people need to see an orthodontist at some point in their lives. If you have straight teeth, you probably take them for granted, but crooked teeth (or even just one tooth that's a little too prominent) can affect your confidence. Orthodontic treatment can be expensive and time-consuming but worthwhile!
You get a comprehensive plan of treatment
When you go to your best orthodontist in Richmond Texas, you get a comprehensive treatment plan. This is among the primary reasons to go to an orthodontist. They will examine your teeth, jaw, and mouth to determine the best way to straighten them. At Elara Orthodontics we will also take x-rays of your teeth to ensure there are no hidden issues with your bite or jaw alignment.
They can also determine whether an at-home treatment kit would be a better option for you or if you need braces. If you need braces, they will give you a treatment plan that includes how long they will last and how much they will cost.
It is safe
Visiting your best orthodontist in Richmond Texas is safer than using an at-home tooth straightening kit. There are no side effects when you see an orthodontist for treatment. You need to visit the dentist every week or two to check on the progress of your teeth alignment. If you are not satisfied with the progress after a few months, you may have to go back to the dentist and have them adjust the aligners.
The whole process can take up to a year or more, depending on how serious your case is and how quickly you want it done. The only thing that could happen is that your teeth could get worse if you don't stick with the treatment plan provided by your doctor or dentist.
Your teeth will be straighter
A crooked smile can make you self-conscious, negatively affecting your self-esteem. Orthodontists have years of training and experience in straightening teeth. They know how much pressure is needed to move teeth, where the pressure should be applied and how long it will take for results to be seen.
Aligning your teeth properly can help you regain confidence and make other people take notice of your natural beauty instead of focusing on imperfections in your smile. Teeth that aren't treated properly can shift back into place after a few weeks or months of wearing the aligner trays (which can cause more damage).
This is why you must wear your aligners as instructed by your orthodontist. Braces from a dentist are made from high-quality materials and are customized to your teeth, meaning they're more comfortable and effective than any over-the-counter device. These appliances also have better longevity than the D.I.Y. options, so you won't have to replace them as often.
You'll have fewer issues with dental hygiene
Dental hygiene is among the main reasons to go to an orthodontist and important for everyone, but it's especially crucial for people who wear braces or retainers. Braces can help prevent tooth decay by preventing plaque buildup on your teeth. Plaque is an acidic substance that forms when bacteria mixes with food particles in your mouth; this substance can cause cavities if not cleaned off regularly through brushing and flossing. Any kind of mouth appliance can also lead to problems with gum disease if you don't pay attention to your oral health habits while wearing it.
You'll look younger
People with perfectly aligned teeth tend to look younger than those with crooked or uneven teeth. It's not just about aesthetics; having a great smile makes it easier for you to converse with people and feel confident about yourself in general.
You'll have fewer risks for infection and tooth decay
While there's no reason to be concerned about using one of these products if you follow the directions and stick to their recommended schedule, a professional can give you better guidance on how to use them safely and effectively.
Takeaway
As a general rule, getting braces from a professional orthodontist is faster and produces better results than using an at-home tooth straightening kit. But don't let that dissuade you from hopping online and checking out these at-home teeth straightening kit. In the end, it all comes down to preference. Regardless of your choice, the end results are likely comparable. If you're worried about being able to commit a designated amount of time each day to wearing your aligners, an at-home tooth straightening kit is a good choice for you. But if you prefer a more hands-on approach, or if you're looking for work that has been D.O.T. approved, an orthodontist is likely your best choice for a straightening treatment—at least in the immediate future.