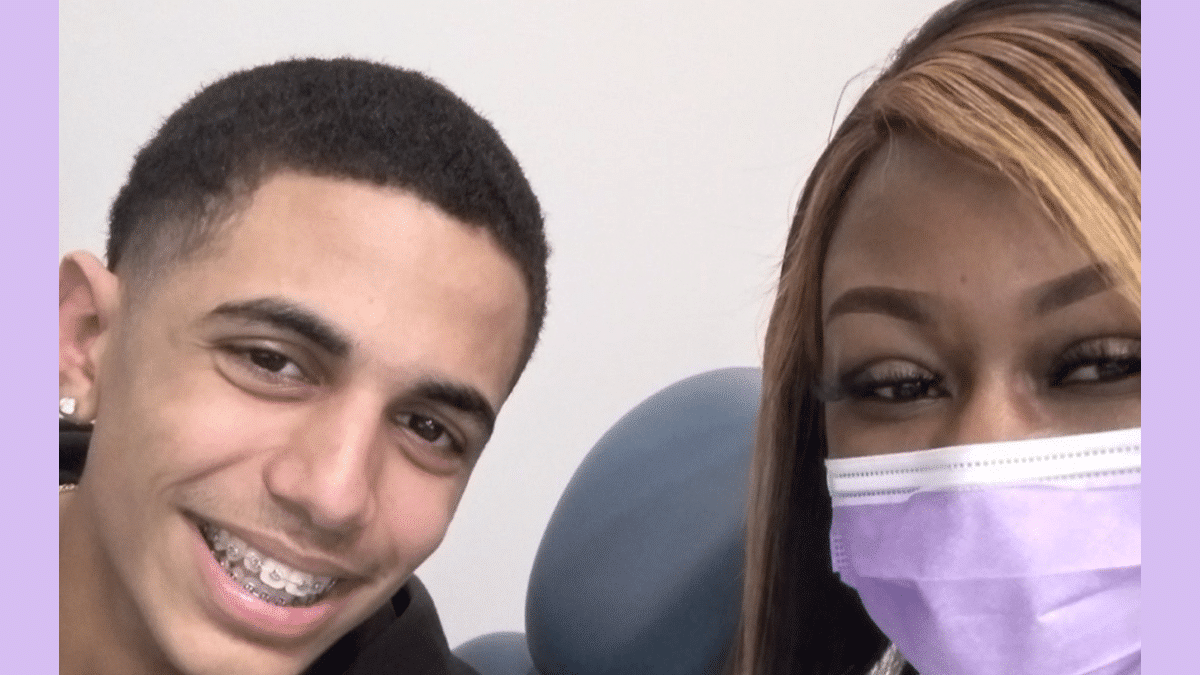 How do braces straighten teeth? 
Today, orthodontic treatments like braces and Invisalign can straighten all kinds of smiles for all ages. 
Whether you need a minor correction or require advanced treatment, you can get the beautiful smile you always wanted. Plus, straightening teeth helps you avoid potentially serious oral health concerns. 
When it comes to teeth braces can treat the most serious misalignments, also called malocclusions. They've been around since ancient times, but today, braces are incredibly advanced, working faster and more comfortably. Plus, they are so much more discreet, with some braces that are clear or hide behind your teeth. (Lingual braces)
Today, it's a great time for people of all ages to get started. As more of us are at home, it's an ideal time to work on your smile. Then, you'll be ready to show off a new, beautiful smile as we return to large gatherings again.
How Braces Straighten Teeth
Rather than remaining fixed in one place, teeth can shift in place. Down at the root, the periodontal ligament holds teeth securely but is flexible and absorbs the impacts of chewing and grinding teeth. Due to the flexibility, teeth can shift over time and aren't attached to the jawbone.
Thus, an orthodontist can take advantage of this mobility to gradually move teeth that have become misaligned. By attaching braces to teeth, we can guide teeth very precisely in a controlled way. Over time, gentle, continuous pressure moves teeth to their ideal positions. Once you have a perfect smile, a retainer ensures teeth stay in place and don't move again.
Even the shape of the jaw gradually adjusts, conforming to the constant pressure. However, the pressure is gentle, so getting braces isn't painful, though some soreness is normal for about a week. By very slowly guiding the teeth braces are overall comfortable and have only advanced over the years.
How Braces Attach to Teeth
Today, there are many choices in the types of braces, which have different types of brackets. Today, you can choose clear ceramic, gold metallic, or traditional metal. At Elara Orthodontics, we have more choices, so you can choose the type that fits your style and needs.
An orthodontist bonds the brackets to each tooth using a special orthodontic dental adhesive. This non-toxic glue bonds to the tooth enamel very securely. However, after treatment, the orthodontist safely removes the adhesive without damaging your teeth.
Archwires and Elastics
Next, an archwire is attached via the brackets. With the strong wire, the orthodontist can precisely apply pressure as needed. Depending on the type of bracket, the archwire may be further held in place using elastic bands. (O-rings or ligatures.) Some brackets, such as self-ligating brackets, have a unique metal clip and don't require elastics.
In the case of Invisalign, a series of clear aligners custom-fits your smile. After wearing one set for a couple of weeks, you will progress to the next in the series. Thus, your teeth are gently, gradually moved to their ideal positions without the use of wire or brackets. 
Colorful or Discreet?
For some people, colorful bands are a fun way to add style and flair to your braces. At Elara Orthodontics, you can choose all kinds of color combinations, such as a favorite color or sports team combination. However, we also offer the most discreet options like clear, so you can feel confident while working on your smile.
In some cases, an orthodontist may use spacers, springs, or other appliances to help guide the teeth precisely. Each patient has a unique smile, so each person requires a custom treatment plan to get the best possible result. 
At Elara, we create the most aesthetically beautiful, healthy, and functional smile possible. And, we back up our work with a 100% satisfaction and lifetime guarantee! So, you can always expect incredible results that last. 
A Beautiful Smile and Better Health 
By getting started with braces or Invisalign, you can get the beautiful smile you deserve. However, the benefits go far beyond the cosmetic. By straightening your teeth, you can avoid many health issues that can worsen over time if left untreated. Therefore, treatment is worth it, and in an average of one to three years, you can start showing off a new smile.
At Elara Orthodontics, you can get the best custom braces treatment and stay within budget. Please, ask us about our flexible payment plans so you can get started even without dental insurance.
View this post on Instagram
Get Started From Home for FREE
We hope this information about "How do braces straighten teeth?" has been helpful. 
Now, get started and learn more with a free virtual consultation. To begin, click on the blue button that reads "NEW Virtual Consultation" at the bottom of the screen. Or, click on the button at the top center of our homepage.
Remember, your first consult is complimentary! If you're ready to begin, please schedule an appointment with us today.
As always, we're here for you at (713) 999-1099. Today, we're taking extra steps to keep everyone safe.
View this post on Instagram