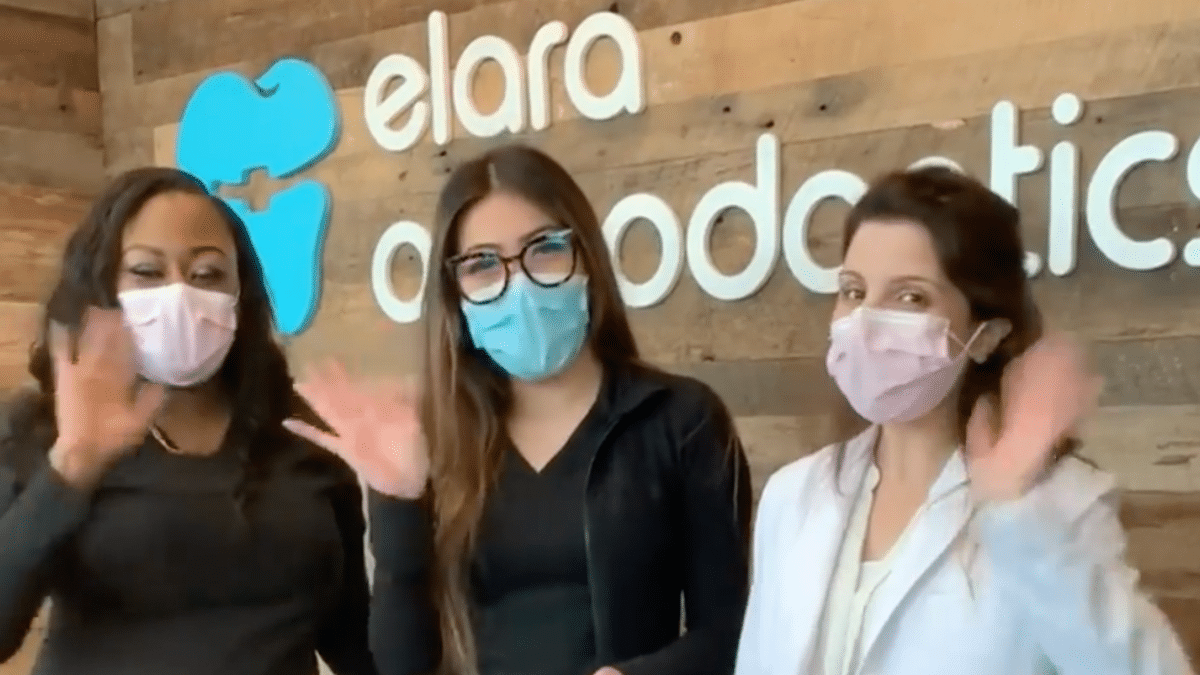 Are you looking for "Braces Sugar Land TX?" Choose the best orthodontists offering a 100% satisfaction guarantee and lifetime guarantee. At Elara, our goal is to create beautiful smiles that you can enjoy for a lifetime. Therefore, we stand behind our orthodontic treatments with an "Elara Lifetime Guarantee." 
Don't trust just anyone with your smile. You deserve the best, and that's what we provide for the Aliana, Richmond, and Sugar Land area. At Elara Orthodontics, you can expect affordable, convenient, top-quality orthodontic treatments in a friendly, caring high-tech environment.
We love our patients and have lots of fun helping them get the smiles they always wanted!
Braces Sugar Land TX
Now, patients from age seven to adults of all ages can expect to have picture-perfect smiles. Advanced treatments are more discreet, including clear or colorful ceramic and Lingual braces that hide behind your teeth. Over the years, braces have become streamlined, more efficient, and more comfortable. So, you can advance toward an amazing smile faster and feel more confident wearing braces.
View this post on Instagram
Invisalign 
If you consider an alternative to braces, we are Platinum Invisalign providers. This designation means we have treated all kinds of smiles with clear aligners, achieving beautiful results. Today, Invisalign provides a discreet, convenient option, encouraging more adults to get started.
Notably, people of all ages love how Invisalign can be removed when you eat and brush your teeth. However, braces or a combination may be a better option in some cases, depending on your smile. Fortunately, finding out if you are a candidate has never been easier. Today, you can learn more from home with a free virtual consultation from Elara Orthodontics.
See What People are Saying
To get an idea of what you can expect at Elara, please check out our reviews. As you'll see, we have many 5-star reviews, reflecting our commitment to provide the best experience and results for everyone.
For example, one person recently wrote this on Google: 
"Friendly professional staff. The office is state-of-the-art, very inviting, pristine, and modern. The staff makes you feel very comfortable, so any anxiety you may feel initially is dispelled. Attention is given to detail to make this a phenomenal experience from beginning to end."
Another person wrote:
"It was a very lovely experience. The staffs were very lovely and nice. Definitely would recommend them to anyone trying to get their braces for the first time. Dr. Sara did a wonderful job, and so did Priscilla and Kerry."
As you'll see, we treat our patients like family and it shows in our reviews. Often, people have a life-changing experience as they get the smile of their dreams. Not only can they feel more confident and smile more, but they can improve their overall long-term health.
Now, perhaps it's your turn? It's never too late to get started!
View this post on Instagram
FREE Virtual Consultations from Home
At Elara, we always want your experience to be convenient, including flexible scheduling and virtual consultations. It's easy and fast to get the facts you need as you consider braces or Invisalign.
After you submit some photos of your smile, our experienced orthodontists will review them. Then, we'll reply with a free smile assessment. 
Find out the answer to:
Will Invisalign or braces work for me?

How long will treatment probably take?

What will the cost be?

Get any other answers you need.
To begin, click on the blue button that reads "NEW Virtual Consultation" at the bottom of the screen. Or, click on the button at the top center of our homepage.
Note: Before any treatment begins, either Dr. Alireza Hourfar and Dr. Sara Abedini will need to evaluate your smile in person. Then, they will discuss all the options, and you'll learn about affordable financing solutions.
We're looking forward to showing you why we're the best choice for "Braces Sugar Land TX."
Remember, your first consult is complimentary! If you're ready to begin, please schedule an appointment with us today.
As always, we're here for you at (713) 999-1099. Today, we're taking extra steps to keep everyone safe and monitoring our messages due to the icy weather conditions. 
View this post on Instagram