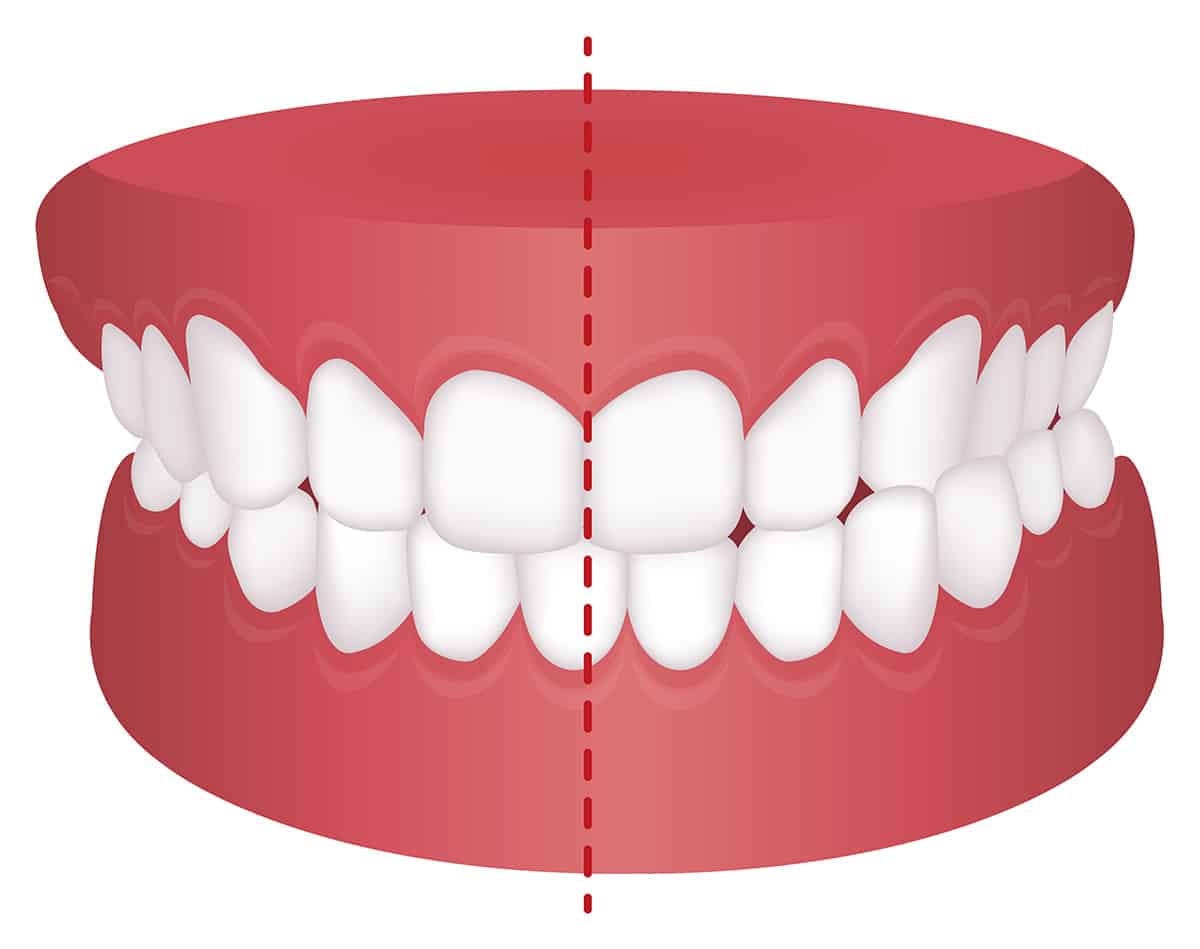 In a perfect mouth, the surfaces of the teeth mesh neatly together when the mouth is closed, forming that desired "white chiclets" look. In a perfect bite, the upper arch of teeth is very slightly wider than the lower arch, allowing for proper chewing. Unfortunately, many people do not have a perfect mouth. When the teeth don't mesh together neatly, you have a malocclusion.
One type of malocclusion is a crossbite. In a crossbite, one or more, or all, of the upper teeth fit inside the lower teeth. In a posterior crossbite, the upper back teeth (the molars) fit inside the lower back teeth. In an anterior crossbite, the upper front teeth fit inside the lower front teeth.
It is important to not confuse a crossbite with an underbite or overbite. In an underbite, all of the lower teeth are in front of the upper teeth. In an overbite, all of the upper teeth are in front of the lower teeth. Being in front of is very different from fitting inside, and the crossbite definition involves some or all of the teeth fitting inside. This difference affects the symptoms and treatments.
Crossbite in children
Crossbite is a developmental abnormality and manifests in young children. If it is recognized early, it is easy to treat. Early treatment allows the facial bones and permanent teeth to develop normally. The crossbite definition of some or all of the upper teeth fitting inside the lower teeth allows parents and dentists to detect and provide a crossbite treatment early before any complications arise.
Symptoms of a crossbite
The most obvious symptom of a crossbite is that the teeth don't look right. What does a crossbite look like? In a posterior jaw crossbite, the bottom teeth look like they are slanting sideways toward the tongue. In an anterior jaw crossbite, the front teeth look like they are caving inwards.
In cases where only one or a few teeth are involved in the crossbite, the involved teeth really stand out against the other teeth. They look like they are pointing in crazy directions instead of the normal, straight up and down pattern.
Most parents are able to easily identify the more severe forms of jaw crossbite, but subtle cases may be harder to notice. Parents should take their young children to the dentist regularly. The dentist can detect early signs of something going awry with your child's mouth development when treatment is easier.
Some parents scoff at the idea of taking young children to a dentist because "their baby teeth are just going to fall out anyway." However, good oral health during the baby teeth period is essential for healthy, correctly positioned permanent teeth to form.
What causes a crossbite?
Crossbites almost always slowly develop during early childhood. Some cases show a genetic tendency (it runs in the family). Problems with the upper airway and general bone development can contribute to a crossbite. In other cases, prolonged, obsessive thumb-sucking or abnormal chewing, swallowing, or breathing behaviors can push the teeth and bones out of their normal positions into a crossbite.
Missing teeth, either due to trauma, genetics, or problems with the transition from baby teeth to permanent teeth, can cause the other teeth to shift their position. Every time you chew, pressure is transmitted through the teeth to the jawbone. The bone responds to this pressure by remodeling itself. Missing teeth and teeth in the wrong places actually cause the jawbone to change in shape and size.
Sometimes baby teeth fall out too early before the permanent tooth is ready to come in. This leaves a gap. Sometimes baby teeth fall out too late after the permanent tooth has started to come in. The retained baby tooth pushes the permanent tooth into an abnormal position. Either of these situations can lead to a crossbite.
Some specific well-known crossbite causes include:
Cleft palate or lip
Nasal obstruction causing chronic mouth breathing, often due to a severely deviated septum
Disproportionately large teeth
Disproportionately small jaw
Early baby tooth loss
Delayed baby tooth loss
Trauma leading to missing teeth
Developmental disorder leading to missing teeth
Habitual tongue thrusting while swallowing
Obsessive sucking on a thumb, pacifier, or bottle
The importance of crossbite correction
It is important to keep in mind that a jaw crossbite will never spontaneously correct itself. It has to be corrected by an orthodontist. If a crossbite is not corrected during childhood, it may cause serious problems such as:
Excessive tooth wear, chipping of the teeth, and gum damage, causing tooth loss
The jaw becoming permanently displaced, causing chewing and speaking difficulties and jaw, neck, and shoulder pain
Distortions of the facial bones, causing aesthetic issues
The development of a very narrow palate, causing breathing issues
Crossbite correction
In most cases, your orthodontist will suggest a crossbite treatment plan to correct the crossbite when your child is around seven or eight years old. At this age, the permanent teeth are starting to erupt and will need to be guided into the correct positions. The bones of the jaw and face are still in their early stages of development at this age and can be easily guided into a new direction of growth during crossbite treatment.
The standard treatment for a posterior jaw crossbite in children is to widen the upper jaw. Orthodontists accomplish this by inserting something called a palatal expander, which applies gentle pressure to encourage the palate to widen. In addition, during the crossbite treatment, the orthodontist will apply braces or clear aligners to slowly move the teeth into a more normal position.
An anterior jaw crossbite in children is generally corrected by braces or clear aligners that move the teeth. Some cases require a special retainer to assist in the correction process.
Rarely, severe cases may require jaw surgery for correction. This is more common in adults who were not treated for crossbite when they were a child. Adults with an untreated mild case of crossbite can be treated with braces, palatal extenders, and retainers, similar to the treatment applied to children.
In young children who are exhibiting habitual behaviors known to be crossbite causes, your pediatrician or dentist may suggest consulting an ENT for evaluation of the sinuses and upper airways to determine why your child is mouth-breathing. Myofunctional therapy may help with abnormal tongue-thrusting behaviors during swallowing that are pushing the teeth out of place. Your pediatrician may also suggest parental coaching to stop excessive thumb-, finger-, or pacifier-sucking, common crossbite causes.
While sucking is a normal infant and toddler behavior, most toddlers grow out of it around age two. Some may continue with sucking behaviors up to age four, but thumb-sucking past this age is not generally considered to be normal.
Treatment cost
In most cases, medical or dental insurance will cover the cost of treating a jaw crossbite because it is considered a functional issue, not an aesthetic issue. Of course, this will vary by your specific insurance plan. Your orthodontist may be able to convince your insurance company to cover the cost of treatment.
If you have to pay out-of-pocket, you can expect costs of around:
$2,000 to $3,000 for a palatal extender
$3,000 to $7,000 for braces
Over $20,000 if surgery is required
Of course, costs vary depending on the specifics of each case. For example, the cost of braces in Houston Texas is higher than the braces cost in Richmond due to Houston's higher cost of living. It is easy to find an orthodontics near Richmond Texas; just call our office.
You will need to get your child (or yourself) examined at our office so that we can develop an orthodontic treatment for crossbite plan for your individual case. Once the plan has been devised we can discuss the cost and your payment options for crossbite correction.
Takeaway
Crossbites are fairly common and they usually develop in early childhood. Crossbite is easy to treat in children. Correcting a crossbite during childhood can prevent many problems later in life, such as dental decay, jaw pain, and poor facial aesthetics. If a crossbite is not corrected during childhood, it will never spontaneously correct itself. Adults who have an uncorrected crossbite can usually be successfully treated.
If you or your child are showing signs of a malocclusion meeting the crossbite definition, consult an orthodontist. A crossbite is not a medical emergency, but an orthodontic treatment for crossbite plan should be devised as early as possible in order to avoid the development of complications.
Crossbite correction is fairly straightforward in most cases. Give our office, Elara, the premier sugar land orthodontics practice, a call today for a consultation. Our practice provides expert orthodontic treatment for crossbite. We provide the best orthodontics in Richmond Texas.