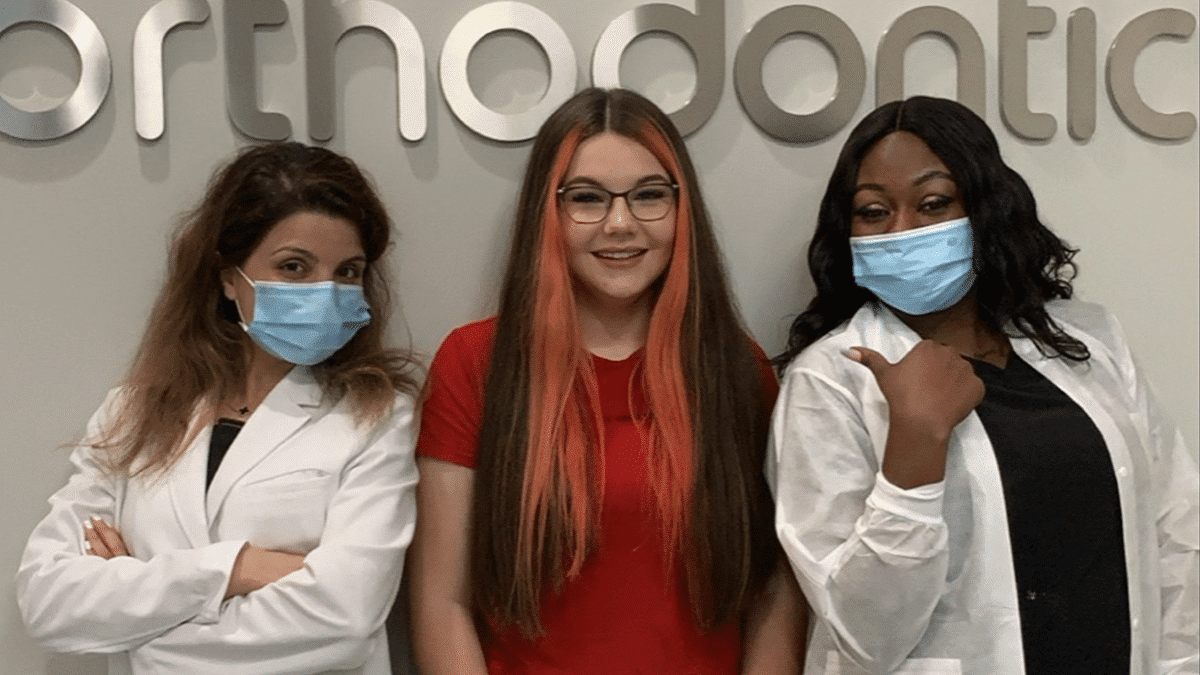 Are you searching for "Invisalign near me?" For those in the Aliana, Richmond, and Sugarland, TX areas, choose Elara Orthodontics.
At Elara Orthodontics, you can get custom Invisalign treatment from our board-certified orthodontists, Dr. Sara Abedini and Dr. Alireza Hourfar. By choosing an experienced orthodontist, you can be sure you'll get the best experience and results with Invisalign.
Today, more adults are getting started with treatment and getting their dream smiles. One reason is due to the convenience and discreet appearance of Invisalign. Now, over ten million people worldwide have benefitted.
Importantly, Invisalign can do much more than making your smile look amazing. As orthodontic treatment aligns your smile, it improves your oral health. Thus, Invisalign is an important investment in a better future with more smiles.
Affordable Top-Quality Invisalign Near Me
At Elara Orthodontics, our highly-trained coordinators are ready to ensure orthodontic treatment is affordable. So, you can get started with the important care you deserve and stay within budget. For example, we offer 0%-interest in-house financing and will help you maximize and insurance benefits you may have.
Notably, we are in-network with the vast majority of dental insurance providers. However, if you don't have insurance, you can still get affordable Invisalign or braces. See more about how we can help you get the affordable, high-quality treatment you deserve here.
Satisfaction and Lifetime Guarantees
With our 100% satisfaction and Elara Lifetime Guarantees, you can be fully confident of getting your dream smile. Our guarantees are just one of the reasons why Elara is different. For example, we also offer easy, flexible appointments to fit your busy schedule.
Please, don't trust your smile and health to a less-experienced provider. Choose the experienced orthodontists who guarantee your satisfaction.
See Our Patients' Smiles and Testimonials for Yourself
If you are researching "Invisalign near me," please take a moment to see what our patients are saying. As you will see, our patients routinely give Elara Orthodontics top reviews. For example, one person wrote this on Google recently:
"Elara Orthodontics is the way to go! The staff is all so friendly, and Jackie, the assistant who helped me out today, was so great! I know a lot of people don't like the dentist, but they really make you feel at home! They are super quick and efficient. I'm definitely gonna recommend so many of my friends here!"
Another person wrote:
"I've always been afraid of dental treatments, but this place is amazing… they made me feel so comfortable and relaxed. I love the entire team that works there! They work around your schedule and just make sure that you're ready!"
Certainly, we love seeing reviews like these, which reflect our ongoing commitment to providing the best care possible. But, please, also look at our social media for examples of the smiles we've helped create. Follow us on Instagram and Facebook.
View this post on Instagram
It's FREE to Get Started
Elara Orthodontics offers FREE first consultations for new patients. Also, you can start from home with a free virtual consultation.
To get started, click the blue button on the screen's bottom that reads, "NEW Virtual consultation." Or, click the "Make an Appointment" button at the top of the screen for an in-person visit. 
By getting started, you can learn if you're a candidate for Invisalign or braces. Also, find out about affordable financing, or get answers to any questions.
Remember, your first consult is complimentary! If you're ready to begin, please schedule an appointment with us today. We look forward to showing you why we're the best choice for anyone looking for "Invisalign near me."
As always, we're here for you at (713) 999-1099. Today, we're taking extra steps to keep everyone safe.
View this post on Instagram