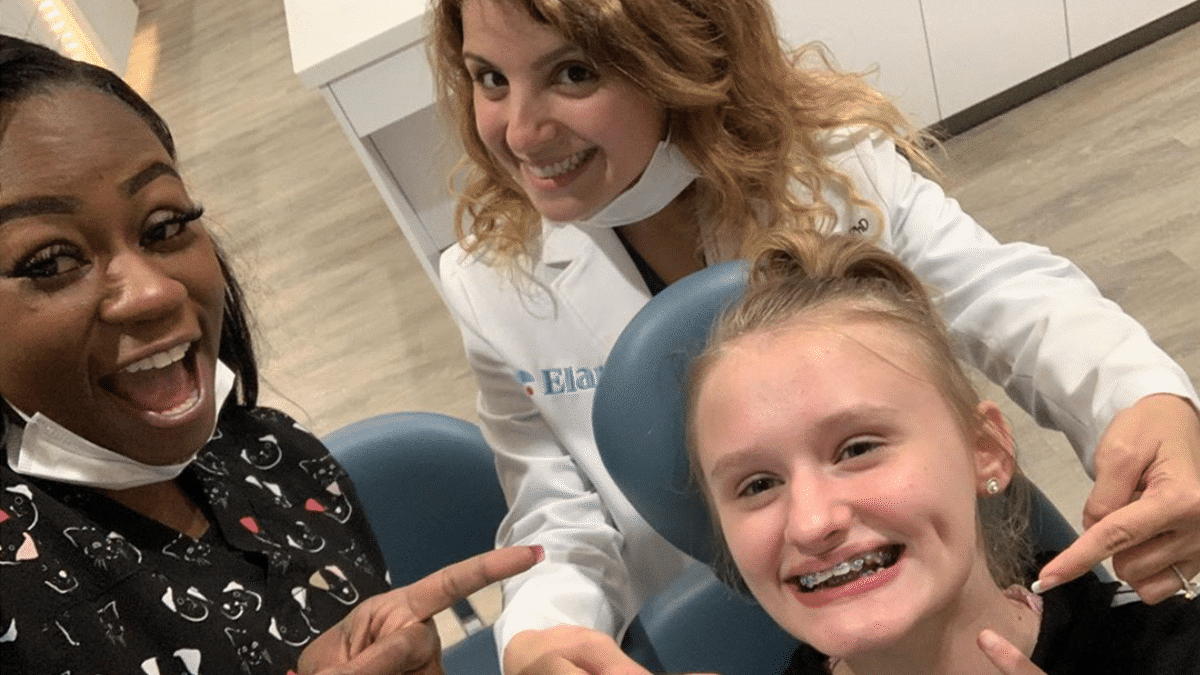 Are you searching for the "best orthodontist Sugar Land, Texas?" Choose Elara Orthodontics, serving the Aliana, Richmond, and Sugar Land area. We treat patients of all ages, providing modern braces, Invisalign, and much more. Whether you need minor correction, surgery, TMJ treatment, or cosmetic dentistry, we offer the best care.
When you choose us, you can expect a worry-free, risk-free, and ultimately enjoyable experience. You'll appreciate our comfortable, state-of-the-art environment with the latest technologies for the best treatment. From the start, your satisfaction is 100% guaranteed. 
Notably, when you seek orthodontic care, you can avoid oral health problems. However, for most people, walking away with a perfect smile for life is the best part. For many, you can feel more confident and enjoy more success and greater self-esteem.
Therefore, choosing the best orthodontist near Sugar Land could be the best decision you'll make today.
Top-quality Care in a Friendly Environment
At Elara Orthodontics, you can expect the best specialty care from orthodontists with over 35 years of combined experience.
Dr. Alireza Hourfar and Dr. Sara Abedini attended dental school and completed a residency program to study advanced tooth movement and facial development. Dr. Hourfar is a board-certified orthodontist with over 16 years of practice. Likewise, Dr. Abedinia is a Diplomat of the American Board of Orthodontics with over 13 years of practice in the dental field.
Thus, when you choose Elara Orthodontics, you can expect the best custom treatment plans and results. Even better, we go out of our way to ensure your treatment is as comfortable and convenient as possible. Thus, we'll accommodate your busy schedule so that treatment won't interfere with work or schooling.
After you get the smile of your dreams, you can rest assured you'll enjoy it for life with the Elara Lifetime Guarantee. Always, we stand behind our work with a focus on providing excellent customer service.
Affordable Care to Fit Your Budget
We're the only private practice in Texas that has been listed as a preferred provider by most insurance companies. So, if you have a dental plan, we'll work with your insurance provider to maximize any benefits. However, if you don't have insurance, we offer 0% interest financing solutions. Thus, nothing holds you back from getting the perfect smile you deserve.
Free First Consultation or Virtual Consultation From Home
Today, it's never been safer or easier to get started with orthodontic treatment. Take a free virtual consultation, and you can find out if you're a candidate for Invisalign or braces. Or, get answers to any other questions. Best of all, you don't have to leave home, and it's easy and quick. 
First, you'll submit some photos of your smile. Then, Elara Orthodontics will review them and provide you with a free smile assessment. Learn about potential treatments, how long they may take, and find out about affordable payment plans. Finally, schedule your first in-person appointment when you're ready. Easy!
To get started, click on the button that reads, "Free Virtual Consultation" on our home page. A pop-up window will open at the bottom right of the screen. Then, follow the easy steps.
If you're ready to book your first complimentary in-person exam, click here. Otherwise, call us anytime at (713) 999-1099. We look forward to showing you why we're the best orthodontist near Sugar Land.
Beautiful smiles begin here!
Please, follow us on Instagram and Facebook for the latest content, reviews, and updates.