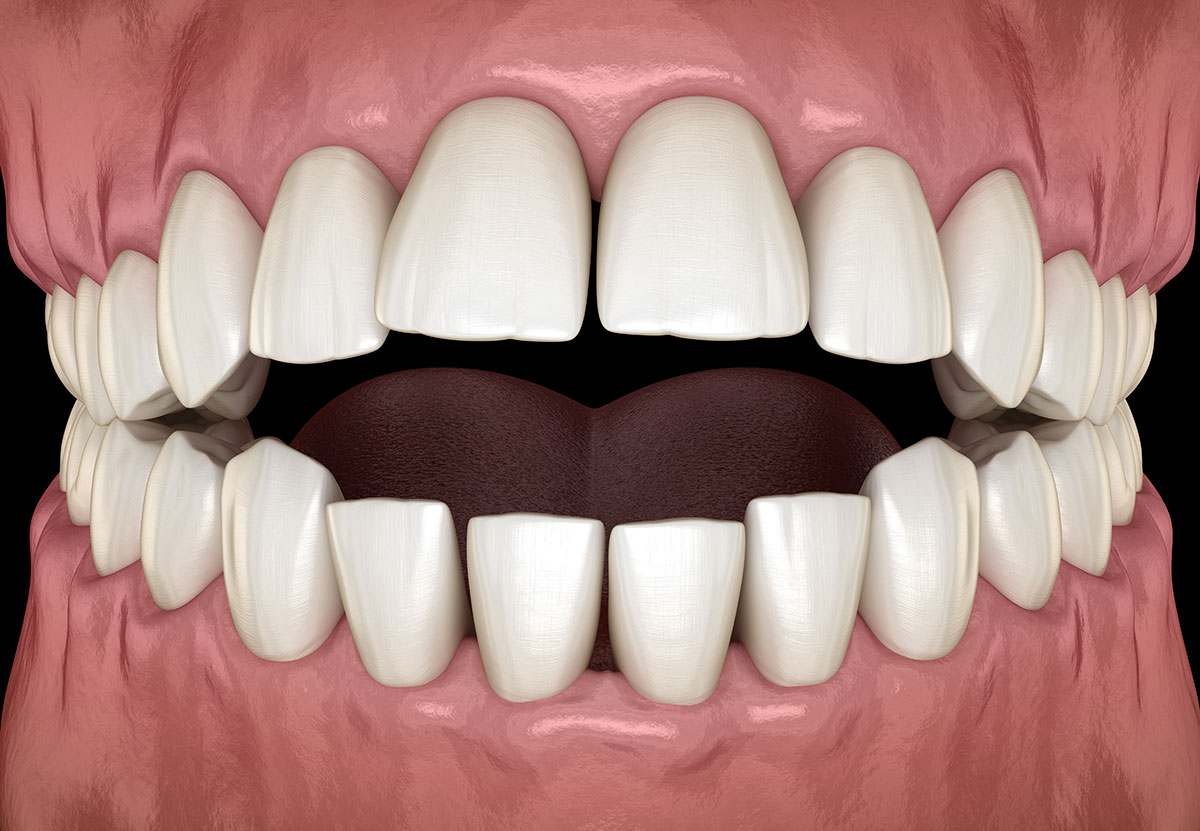 An Open bite is a kind of dental malocclusion that may result in some individuals having problems talking, eating, or even sealing their mounts to keep from drooling; thus, top and bottom teeth don't touch. There are numerous open bite treatment options, including selective tooth extraction, orthodontic braces, and jaw surgery. If surgery is not a viable option for correcting an open bite, the patient can explore orthodontic options such as, but not limited to, dentofacial orthognathic surgery (DFPS), reverse pull-out braces, and active full-coverage braces. Before settling on the various open bite treatment, one must consider open bite treatment cost in Texas.
Types Of Open Bite
Open bites often fall into one of three categories: an anterior open bite, posterior open bite, or incomplete overbite. Each time, a section of the upper and lower teeth is separated from one another. When the mouth is closed, the front upper and lower teeth are not touching and appear open due to an anterior open bite. A similar issue is referred to as a posterior open bite, except this time, the back teeth are the ones that cannot shut. When the upper and lower front teeth of a patient with a so-called incomplete overbite do not contact, the patient may also be diagnosed with an open bite.
Symptoms Of Open Bite
It is usually very easy to identify an open bite just by looking at your teeth when you bite down naturally. When seen from the front or from one or both sides, top and bottom teeth don't touch and appear to be spaced apart.
If a problem with the jawbone brings on an open bite, it is often due to too much bone development at the rear of the upper jaw. The front teeth protrude as a result of this, pushing the teeth out of alignment, known as an overjet.
Perfect Bite
At Elara Orthodontics in Richmond Texas, we have a long list of people asking for "orthodontics near me" or booking an orthodontic consultation to straighten n their teeth. Sadly, hardly any people have a perfect bite from birth. A faulty bite, or malocclusion open bite, may not seem like a big deal to most people, but it can cause migraines, painful jaw joints, uneven tooth wear, and other issues with the muscles and brain.
Why Is The Perfect Bite Important?
Not only does having a perfect bite make you look better, but it also improves your oral health and lowers your chance of developing common dental issues, including tooth wear, cavities, and gum disease. An expert orthodontist will assess your teeth' bite and aesthetics before giving you the finest recommendations for your smile and yours. Utilize our Finder Tool to locate "orthodontics near me" right now.
How To Fix Open Bite
You can talk about treatment choices after your orthodontist thoroughly examines and diagnoses your condition. Skilled orthodontists can treat open bites in a number of ways; they will make a professional suggestion based on your unique diagnosis and requirements. Always seek the advice of a qualified orthodontist at a specialized orthodontic clinic who can offer cutting-edge technology and is knowledgeable about all available treatment options. Most of the time, open bite treatment cost in Texas is high. To assist you in lowering the cost of treatment, Elara Orthodontics in Richmond Texas, offers services like orthodontics near me which help patients identify dentists near them.
Open Bite Treatment Options
The majority of people have some form of dental malocclusion. Tooth misalignment is the most frequent reason most patients are referred to orthodontists. However, in the majority of instances, it doesn't result in any cosmetic or functional issues; thus, orthodontic treatment isn't required.
One of the most difficult dentofacial abnormalities for orthodontics and orthognathic surgeons to address is an open bite due to the likelihood of recurrence in many individuals. After anterior open bite therapy, recurrence is frequently seen for the major reason that many patients retain bad behaviors like tongue thrusting, which probably led to the open bite in the first place. If the habit is not broken, the malocclusion open bite will probably return. An orthodontist could suggest a tongue crib device to remedy this and prevent recurrence following treatment for the open bite.
Orthognathic Surgery
At Elara Orthodontics in Richmond Texas, we recommend patients undergo orthognathic surgery if the case is severe. An oral and maxillofacial surgeon can do this operation to correct or improve a variety of dentofacial abnormalities, such as open bites, overbites, and other jaw and/or tooth misalignments.
Ideally, Oral surgery may be essential in rare instances for exceedingly difficult open bite problems that cannot be resolved with orthodontic treatment alone. Your orthodontist will recommend an oral surgeon if your situation necessitates surgery. The best results for very severe open bites can be achieved by combining orthodontic treatment with oral surgery.
Clear Aligners
One of the Open Bite Treatment Options is clear aligners. They are plastic trays individually made to fit patient teeth and progressively reposition them, making them more visually attractive and more comfortable. Although clear aligners are becoming more and more common since they are not immediately evident when eating or smiling, they might not be advised for those who have open bites brought on by jawbone irregularities. Clear aligners work well to realign teeth, but they cannot change the position of the jawbone. When used as a tool by an experienced orthodontist, Invisalign is more successful than braces fix open bite options.
Can Invisalign Fix Open Bite?
Invisalign was first introduced in the medical world in 1997 by two Stanford university students. It was not advised at this time to use Invisalign to treat an open bite. More orthodontic repairs, including open bites, were attainable as time went on because of greater knowledge of how updated Clear Aligners may distribute the required force in a predictable way.
Today dentists can use Invisalign to remedy an open bite problem effectively. Even though open bites aren't always simple to fix, your teeth will be thoroughly inspected when you visit our Invisalign specialist. Then, you'll understand how Invisalign can help us seal your open bite. At Elara Orthodontics in Richmond Texas, we will make a 3D imprint of your teeth and present you with before-and-after images of other patients who have corrected their open bites using Invisalign. However, open bite treatment cost in Texas specifically invisalign is not cheap.
However, because of the high expense of open bite treatment in Texas, many patients cannot receive treatment with Invisalign. Thankfully, there are less expensive choices available, like at-home aligners.
Even while Invisalign has advanced significantly over the years, it still has limitations in more complicated instances such as posterior open bite. Invisalign might not be the best choice in this situation. To find out if Invisalign can close your open bite, it is advisable to speak with a qualified orthodontist.
What Advantages Can Invisalign Provide For Open Bites?
Compared to alternative forms of therapy, Invisalign has a number of benefits, including the following:
Discreet treatment: With Invisalign, you may straighten your teeth without anybody noticing. Unlike metal braces, transparent aligners let you correct your open bite while maintaining privacy.
A design that is detachable and cleans up easily: The aligners can be taken out. You may take them off when you want to eat, drink, or wash your teeth. They won't get food trapped in them as metal braces do.
Customized care: Your Invisalign aligners will be designed to precisely fit your teeth. The teeth will progressively move into a place with each pair of aligners.
Convenience and comfort: Invisalign's transparent aligners put minimal strain on the teeth and jaw. Compared to metal braces, they are essentially painless.
Traditional Metal Braces
Traditional metal braces are still among the most practical and cost-efficient braces fix open bite. The teeth and jaw are gradually realigned with this orthodontic technique, which employs elastic ligatures (bands), metal brackets, and archwires. Nevertheless, they need regular adjustments from an orthodontist as the therapy proceeds for 1-3 years.
Lingual Braces
Lingual braces achieve the same result as traditional metal braces but are positioned behind the teeth, by the tongue and palate, instead of on the front. They provide a fantastic aesthetic option for folks who want their teeth straightened but don't want the braces to be visible.
Lingual braces are easily applied. An impression of the teeth will be taken by a dentist, which will be sent to a dental laboratory for use in making the specific brackets. The process usually takes six weeks. When everything is finished, your orthodontist will adhere the braces to the back of your teeth using a certain technique. The operation of lingual braces is similar to that of conventional braces. To assist the teeth in moving into the right place, they continuously yet gently press on them. Depending on how severely a patient's overcrowding of teeth or bite is present, the therapy may take 18 to 36 months.
Damon Braces
Damon Braces has been around since 1975, and Elara Orthodontics in Richmond Texas, recommend this treatment. From their website, you can order directly, find "orthodontics near me", or even call them if you have any questions about a particular type of braces fix open bite.
Despite usually being more expensive than conventional metal braces, Damon braces contain a self-ligating bracket system that allows for quicker orthodontic outcomes with fewer modifications. With Damon braces, tooth extractions and palatal expansion are rarely necessary.
Can Braces Really Fix Open Bite?
The quick response is yes. Due to the durability of their construction and their ability to be used in conjunction with other dental equipment like elastics and bite blocks to close gaps in the teeth, braces are a very successful treatment option. Tooth extraction may occasionally be included in the treatment plan because crowded teeth can make bite correction difficult. Braces fix open bite options include Damon Braces, Lingual Braces, and traditional metal braces.
Early Intervention For Open Bite
Discourage your kid from developing bad oral habits like thumb sucking, tongue pushing, or using a pacifier or bottle after the age of 18 months. This can go a long way toward preventing an open bite.
The soft tissues and other structural tissues inside the mouth are subjected to artificial pressure as a result of these oral habits due to the power of the tongue. Applying this consistent pressure to growing youngsters affects the normal development of the jawbones, muscles, and teeth, frequently leading to a malocclusion open bite.
While a kid still has their baby teeth, interceptive orthodontic therapy focuses on locating and correcting dental malocclusions before the development of permanent teeth. For the best chance of treatment effectiveness, an open bite must be diagnosed and treated as soon as possible.
Retainers
Following various orthodontic procedures, retainers are used as a preventative precaution. Whether you choose braces or Invisalign, your orthodontist will give you a set of retainers to maintain the position of your smile and prevent the recurrence of your open bite. To preserve the effects of your orthodontic treatment, it's crucial that you wear your retainers as directed by your orthodontist.
What Is The Best Treatment For Malocclusion Open Bite?
Orthodontic therapy is the most effective and popular method for closing an open bite. Braces fix open bite by pushing and tugging teeth into their right positions. Some individuals may resort to corrective jaw surgery in extreme situations or after all other orthodontic procedures have failed. The upper jaw is often moved during corrective jaw surgery to address alignment and biting problems. Metal screws and plates are then used to firmly anchor the jaw. Adult patients with a significant open bite often only consider corrective jaw surgery as a last resort. Nevertheless open bite treatment cost in Texas, particularly orthodontic therapy is usually expensive.
The physiological component of open bite makes it more challenging to cure than other types of malocclusion. To make up for their malocclusion of open bites, many patients habitually insert their tongues between their teeth to close the space. Although it may be functionally useful in the short run, tongue thrusting can be extremely harmful and worsen the open bite's size and severity. The habit of tongue pushing or other types of compensating that a patient has formed as a result of their open bite must also be addressed as part of treating the open bite.
When Is An Open Bite A Cause For Concern?
Having an open bite may frequently be prevented. Many open bite instances come from habits like thumb sucking and tongue pushing, and in rare circumstances, they are brought on by temporomandibular (TMJ) disorders. The optimum time to treat an open bite is in its early stages, just like many dental illnesses and ailments. Early intervention is essential for treating open bites.
Treatment for open bites becomes substantially more challenging as patients age because their jawbones have greatly stiffened.
It's important to make behavioural adjustments for young toddlers, such as avoiding thumbsucking. Nevertheless, orthodontic treatment is not always necessary for children with open bites. When their adult teeth sprout, young children frequently outgrow their open bite. Of course, taking your kids to an orthodontist for frequent appointments and monitoring their dental development is a good idea to ensure that their permanent teeth come in properly and without problems.
Causes Of Malocclusion
Malocclusion open bite is a common hereditary issue. It can therefore be handed on from one generation to the following.
Your jaw's structure and form might alter as a result of certain illnesses or behaviors such as:
Cleft lip and palate,
Using a pacifier often after the age of three,
Nursing infants for an extended period of time in bottles,
Thumb sucking
Abnormally shaped or impacted teeth
Dental work resulting in poorly fitting dental fillings, crowns, or braces
Airway obstruction (mouth breathing) may be brought on by allergies or enlarging adenoids or tonsils.
How Is Malocclusion Prevented?
Because inherited factors play a substantial role in the majority of malocclusion cases, prevention can be challenging. To prevent alterations in jaw development, parents should restrict the use of pacifiers and bottles. Additionally, getting kids to cease thumb-sucking as early as feasible is important. Moreover, the length and intensity of the therapy may be reduced with early malocclusion open bite identification.
How Much Does It Cost To Fix Open Bite?
Generally, The cost coul dbe between between $1800 to $7000 depending on the treatment needed and where you get the treatment. If you live in Texas, call Elara Orthodontics today for a cost estimate and explore our treatment options. It is important to treat your open bit, so ensure you seek medical help from an experienced orthodontic.
Conclusion
Open bite is found in people with a misaligned jaw or a short lower jaw. The lower teeth do not close fully, and the upper teeth come out of the bite plane. Open bite treatment cost in Texas is often high as some people may need a space maintainer to help fix their problems and encourage the growth of their adult teeth. For others, they may need braces that have been made specifically to help them acquire perfect bite. When you have an open bite, you will likely find that your chewing ability is hindered as well as your speech difficulties. In order to fix your problem and improve your quality of life, you may need some brace.
You have found the best location at Elara Orthodontics in Richmond Texas if you're seeking reasonably priced orthodontists for your child or yourself! We also help you find orthodontics near me. In a cutting-edge workplace, you will receive extraordinary care. Our assistance to you extends beyond simple dental work: Our kind and expertly educated personnel will go above and beyond to make you feel unique, welcomed, and at home. Call Elara Orthodontics to lean more about our Open Bite Treatment Options.