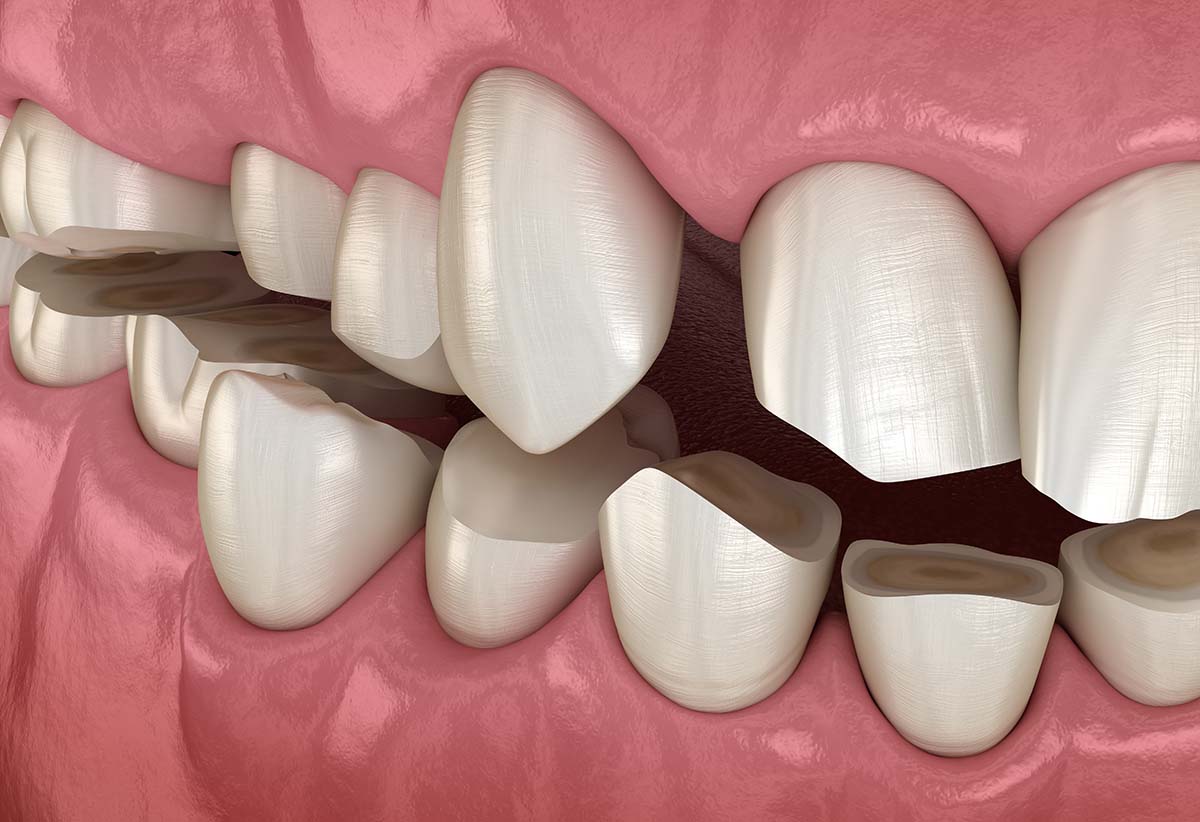 Yes, braces can help with teeth grinding (Bruxism). The reason people have teeth grinding problems or bruxism is an uneven bite. Dentists and orthodontists use splints and night guards to prevent their patients' teeth grinding in their sleep. Elara Orthodontics will also discuss braces with their patients.
What Is Bruxism Or Teeth Grinding?
Bruxism is the clenching of the teeth or grinding of the teeth either awake or asleep. Symptoms are sore jaws and difficulty chewing. Bruxism invariably leads to dental problems such as:
Headache
Cracked teeth
Loose teeth
Jaw pain
Receding gums
There are more frightening conditions like locking of the jaw, popping of the jaw, and scraping off the tooth enamel to expose the dentin inside.
Bruxism isn't a temporary thing. It lasts for years, wearing off tooth enamel, leveling off the top of the teeth, and sometimes even affecting the inside of the cheeks and tongue. Damages will require Sugar Land Orthodontics to apply crowns, bridges, or even full dentures to align the teeth.
What Causes Bruxism?
A number of things can cause you to grind your teeth such as anxiety. Johns Hopkins Medicine tells us that people with nervous tension, pain, and anger suffer from bruxism. Aggressive, competitive persons often grind their teeth. Some people who use anti-depressants suffer from bruxism. Additionally, it has been found that bruxism is the result of neurotransmitter imbalances.
Bruxism Treatment
Any remedy for teeth grinding will involve a dental appliance of some description. The teeth must be (a) becoming aligned, while at the same time (b) protected. However, bruxism treatment combining lifestyle changes with dental appliances works wonders for patients. Here's how it's done.
Medications
It's not uncommon for tense muscles during the day to follow us into sleep. We might prescribe muscle relaxers for a short time to loosen you up. If anxiety and stress cause tense muscles, then anti-depressants and/or anti-anxiety medications will help prevent bruxism.
Biofeedback
This is a small machine that measures the muscle activity in the face and jaw. It alerts you to the jaw having too much muscle activity. Then you do exercises or other things to re-direct that activity. This is more for daytime bruxism treatment than grinding teeth in sleep.
Massage
While it's not medical in nature, the results are unequivocal. Massage loosens up the muscles, thus releasing any tension in the body. Neck and shoulder massage loosens up the supporting muscles, allowing the facial and jaw muscles to relax. No tension, no grinding.
Health Conditions
How to stop grinding teeth is a little different when a health condition is involved. You'll find bruxism resulting from Parkinson's disease, epilepsy, sleep apnea, and ADHD, just to name a few. In these cases, treating the health condition will benefit the bruxism.
Behavioral Changes
The best orthodontist in Richmond will not only do everything in his or her power to heal your teeth, but he or she will give you exercises to involve you in training the facial and jaw muscles to not allow the teeth to grind.
Our doctors will show you how to hold and/or rest the jaw in the proper way. One such exercise goes as follows:
Gently hold your lips closed while not allowing the upper teeth to touch the lower teeth.
Hold the tongue against the roof of the mouth without allowing it to touch the teeth.
Hold for a count of ten. Increase the count as time goes by.
The exercise helps relax the facial and jaw muscles. This one stretches them:
Put your fingers on the TMJ joints. They're right beside the earlobes.
Open your mouth slowly and hold it open for a count of ten.
Close your mouth slowly. Do this two to three times per day.
Do Braces Help Grinding Teeth?
Yes. The purpose of braces is to align teeth that aren't in their normal places. Teeth in their normal places don't grind. How do braces do this?
Brackets
The little metal squares on the front of the teeth are called brackets. These consist of the body holding the slot into which the wires go. They also contain hooks for elastic bands. The molars have bands specially wrapped around them. They are connected to the brackets by the same wires.
Archwire
This wire is what attaches all the brackets and bands to each other. It actually does the aligning work because it can be bent and maneuvered to make the teeth go where the orthodontist wants them to go. Gaps are closed up and teeth are aligned with this wire.
Power Chains And O-Rings
The brackets need something on each end to hold the archwire in place. This is called an O-ring. A whole line of them is called a power chain. Each O-ring is attached to the next, and they look like a linked bracelet. Their purpose is to stretch over all the brackets, pulling them together or closing up the gaps.
Rubber Bands
Rubber bands are the major force in aligning teeth. Proper alignment is how to stop grinding teeth. The rubber bands are attached to the upper brackets and the lower brackets usually on the back teeth. This action takes the longest to accomplish its job. When it's done, though, your teeth will be aligned and teeth grinding will be just a memory.
Retainers
Plastic retainers keep the newly aligned teeth in place. They are worn for many years after braces to prevent the teeth from sliding back to their old positions. They are worn, too, in order to make sure the ligaments, bone, and gum have all settled into a permanent place.
Do Braces Help Grinding Teeth, Part 2
You might think that you can do a victory dance when the braces come off, but not yet. Sugar Land Orthodontics is all about making sure every step in your dental solutions is right. This means taking it one step at a time:
Align
This step renders the teeth side to side. No teeth sit behind others or jut out. They are perfectly aligned.
Bite
In this step, the bite is adjusted so that the upper teeth don't overlap the lower teeth. An underbite and/or a crossbite are repaired in this step.
Tweaking
Before removal of the braces, your Elara Orthodontics professional will fine-tune anything that needs it. When the braces come off, your teeth will look beautiful.
What Happens After Bruxism Treatment?
It's normal for the teeth to try to shift back to their original positions after the removal of braces. The memory in the ligaments kicks in to return the teeth to what it considers "normal." Additionally, once the pressure of the braces is gone, it's normal for teeth to "settle."
That's why retainers are worn 24/7 to prevent this movement. Newly aligned teeth take around six months for the bone to get used to the new position of the teeth. To prevent the movement of the teeth, the retainer must be worn, at least at night, for the rest of your life.
Cost Of Braces In Sugar Land
There's no getting around the fact that dental work is expensive. However, the best orthodontist in Richmond wants to help you the best he or she can. Many orthodontists will have payment plans suitable for any financial situation.
Metal braces are the most affordable method of removing a teeth grinding problem. Braces needed to remove a health hazard like misaligned teeth or an overbite are usually covered by insurance. For expenses insurance doesn't cover, payment plans are usually available.
Let's face it: the cost of braces in Sugar Land is preferable to the cost of repairing the results of bruxism. Removing broken teeth, and the placement of crowns or full dentures aren't cheap. The stress associated with dental problems causes health conditions that are just as expensive to handle.
Bruxism Facts You Might Not Have Known
Is There A Permanent Treatment For Bruxism?
Given the tendency of teeth to move about, the answer is no. However, lifestyle changes can keep bruxism at bay for an untold period of time. These include:
Reducing stress. Medication can help, or you can practice mindfulness or meditation to control stress.
Avoid stimulants at night. Caffeine and alcohol should be limited to the daytime.
Sleep. Get plenty (at least seven to eight hours) of restful sleep.
Talk to your sleep partner. If you sleep with a spouse or partner, talk about your sleep habits. Learn about better sleep practices and make them a habit.
Regular dental exams. These are a must to catch damages and repair them before serious dental work becomes necessary.
Can You Wear A Mouthguard With Braces?
Absolutely. Special mouthguards are made for wearing over braces. Your Elara Orthodontics professional will fit you for one.
What Are Mouth Splints And How Do They Help Bruxism?
Dental splints or occlusal splints fit over the teeth and between them, both upper and lower. They maneuver the jaw into a safe position. This means pressure on the facial muscles and the jaw is relaxed. The jaw is stabilized. The teeth might grind, but the damage won't be so serious.
Is Bruxism A Neurological Disorder?
Bruxism crosses several lines. It's both a neurological as well as dental condition. Physicians and neurologists, though, aren't trained to recognize all the issues of the problem. Your Elara Orthodontics professional, however, is cognizant of the causes and results of bruxism. S/he is in a better position to help you.
If Bruxism Isn't Treated, What Happens?
Some people think the condition is simply irritating and do nothing about it. It's when they encounter temporomandibular disorder or facial muscle problems that the condition has continued too long. They could lose their teeth.
Conclusion
Grinding teeth or bruxism is a serious dental condition. It could result in wearing off the tooth enamel, broken teeth, tooth loss, and more. Before this happens, please contact Elara Orthodontics or call (713) 999-1099. We're standing by to help.