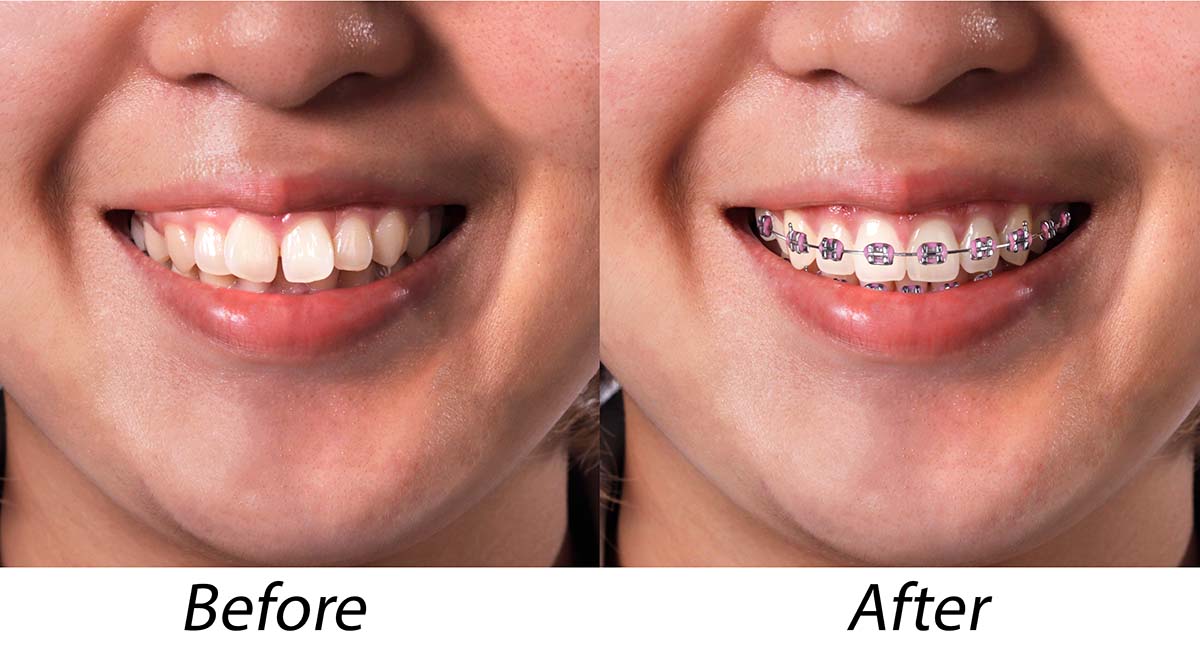 Orthodontic treatment, often associated with braces, plays a crucial role in achieving a healthy, functional, and aesthetically pleasing smile. While braces are commonly associated with teenagers, people of various ages may benefit from orthodontic intervention. In this article, we will explore the reasons why individuals may need braces and how orthodontic treatment can address common dental issues.
Misaligned Teeth and Malocclusion
Misaligned teeth, also known as dental malocclusion, are a primary reason individuals may need braces. Malocclusion refers to irregularities in the alignment of teeth and the way the upper and lower jaws fit together. Common types of malocclusion include overcrowding, gaps between teeth, overbite (upper teeth protruding over the lower teeth), underbite (lower teeth protruding over the upper teeth), crossbite (misalignment of the upper and lower teeth when biting), and open bite (upper and lower teeth not meeting when biting).
Age Considerations
Children and Adolescents
Orthodontic treatment often begins during childhood or adolescence, as this is a period when the jaw is still developing, and teeth are more receptive to movement. Early intervention can guide proper dental growth, address skeletal discrepancies, and prevent more severe issues in the future.
Adults
Braces are not limited to younger individuals. Many adults seek orthodontic treatment to address longstanding dental concerns or to improve their smile. Advances in orthodontic techniques and aesthetic options, such as clear aligners, have made orthodontic treatment more accessible and appealing to adults.
Common Orthodontic Issues
Overcrowding
Overcrowding occurs when there is insufficient space in the dental arch to accommodate all the teeth properly. Braces can help create space and align the teeth correctly.
Spacing Issues
Gaps or spaces between teeth can occur due to missing teeth, abnormal growth, or other factors. Braces can close these spaces and create a more uniform smile.
Bite Problems
Bite issues, such as overbite, underbite, crossbite, and open bite, can lead to problems with chewing, speech, and overall oral health. Braces can correct these bite problems, improving functionality and aesthetics.
Benefits of Orthodontic Treatment
Improved Oral Health
Properly aligned teeth are easier to clean, reducing the risk of dental decay, gum disease, and other oral health issues.
Enhanced Aesthetics
Orthodontic treatment can significantly improve the appearance of the smile, boosting self-confidence and self-esteem.
Better Functionality
Correcting bite problems and aligning the teeth can improve chewing, speech, and overall oral function.
Introduction:
As a parent, it's important to be attentive to your child's dental health, including the need for orthodontic treatment. Identifying the signs that your child may require braces can help you take proactive steps towards addressing their dental concerns. Elara Orthodontics, your trusted orthodontic practice in Richmond, Texas, is here to guide you. In this article, we will discuss essential indicators that suggest your child may benefit from braces, optimizing their oral health and ensuring a confident smile.
Regular Dental Check-ups and an Orthodontic Evaluation
Regular visits to Elara Orthodontics in Richmond, Texas, allow for early detection of orthodontic issues. Our team of professionals can identify concerns during routine dental examinations, ensuring timely intervention.
Seek an orthodontic consultation at Elara Orthodontics for a comprehensive evaluation. Our experienced orthodontists specialize in diagnosing and treating dental misalignments in children, providing personalized treatment plans tailored to your child's needs.
Key Signs and Indicators
Crooked or Crowded Teeth in Richmond, Texas
Noticeable misalignment, overlapping, or crowding of teeth may signal the need for braces. Elara Orthodontics in Richmond, Texas, offers effective solutions to address these concerns, promoting proper dental alignment.
Early or Late Loss of Baby Teeth
Deviations from the typical timeline for losing baby teeth could indicate potential orthodontic issues. Our Richmond, Texas orthodontic team can evaluate the situation and recommend appropriate treatment if necessary.
Difficulty with Chewing or Biting
If your child experiences challenges with biting, chewing, or teeth not meeting properly, it may be a sign of a bite problem. Elara Orthodontics provides effective bite correction options in Richmond, Texas.
Mouth Breathing or Snoring
Persistent mouth breathing, snoring, or breathing difficulties may be associated with dental or jaw alignment issues. Our Richmond, Texas orthodontists can assess these concerns and offer suitable treatment options.
Speech Difficulties
Lingual issues or speech impediments, such as lisping, may be connected to dental misalignment. Elara Orthodontics in Richmond, Texas, can address these speech-related concerns through braces or other orthodontic treatments.
Thumb-Sucking or Tongue-Thrusting Habits
Extended thumb-sucking or tongue-thrusting habits can impact dental development. Our Richmond, Texas orthodontic team can evaluate the effects of these habits and suggest appropriate treatments, including braces.
Importance of Early Intervention with Elara Orthodontics
Proactive Approach for Richmond, Texas Residents
Early detection and intervention at Elara Orthodontics in Richmond, Texas, can guide proper dental growth, prevent severe issues, and minimize future treatment needs.
Age Considerations in Richmond, Texas
Our orthodontists understand the optimal age for orthodontic treatment, and we recommend early evaluations for Richmond, Texas residents to address potential concerns promptly.
Seek Professional Advice from Elara Orthodontics in Richmond, Texas
Orthodontic Evaluation by Elara Orthodontics
Schedule an appointment with our experienced orthodontists for a thorough evaluation in Richmond, Texas. We will assess your child's dental and jaw alignment, identify any issues, and recommend the most suitable treatment options.
Individualized Treatment Plan
At Elara Orthodontics, we develop customized treatment plans that consider your child's unique needs, including tooth alignment, jaw development, and oral health. Our team will explain the recommended treatment options and provide guidance on the duration and expected outcomes of the orthodontic treatment.
Expert Care and Support
Elara Orthodontics in Richmond, Texas, is committed to delivering top-quality orthodontic care for children. Our skilled orthodontists and friendly staff provide a supportive environment throughout the treatment journey. We prioritize open communication and are happy to address any questions or concerns you may have.
State-of-the-Art Techniques and Technology
Elara Orthodontics stays up-to-date with the latest advancements in orthodontic techniques and technology. We utilize state-of-the-art tools and materials to ensure efficient and effective treatment outcomes for our patients in Richmond, Texas.
Convenient and Comfortable Experience
We understand the importance of convenience and comfort for both you and your child. Elara Orthodontics in Richmond, Texas, strives to provide a seamless and comfortable orthodontic experience. We offer flexible appointment scheduling, a welcoming environment, and personalized care to ensure a positive journey towards a healthy and beautiful smile.
Conclusion
Recognizing the signs that your child may need braces is crucial for their dental health and overall well-being. Elara Orthodontics in Richmond, Texas, is dedicated to helping children achieve healthy and confident smiles through personalized orthodontic treatment. By seeking professional advice and early intervention, you can ensure that your child receives the necessary orthodontic care for optimal oral health. Schedule a consultation with Elara Orthodontics to take the first step towards a lifetime of beautiful smiles.
Orthodontic treatment, including the use of braces, is not limited to a specific age group. Children, adolescents, and adults can benefit from braces to address misaligned teeth, malocclusion, and other dental concerns. With advances in orthodontic techniques, it is now easier than ever to achieve a healthy, functional, and beautiful smile. Consultation with an experienced orthodontist is crucial to determine the need for braces and to develop a personalized treatment plan for optimal results. Remember, investing in orthodontic treatment can lead to a lifetime of improved oral health and confidence in your smile.