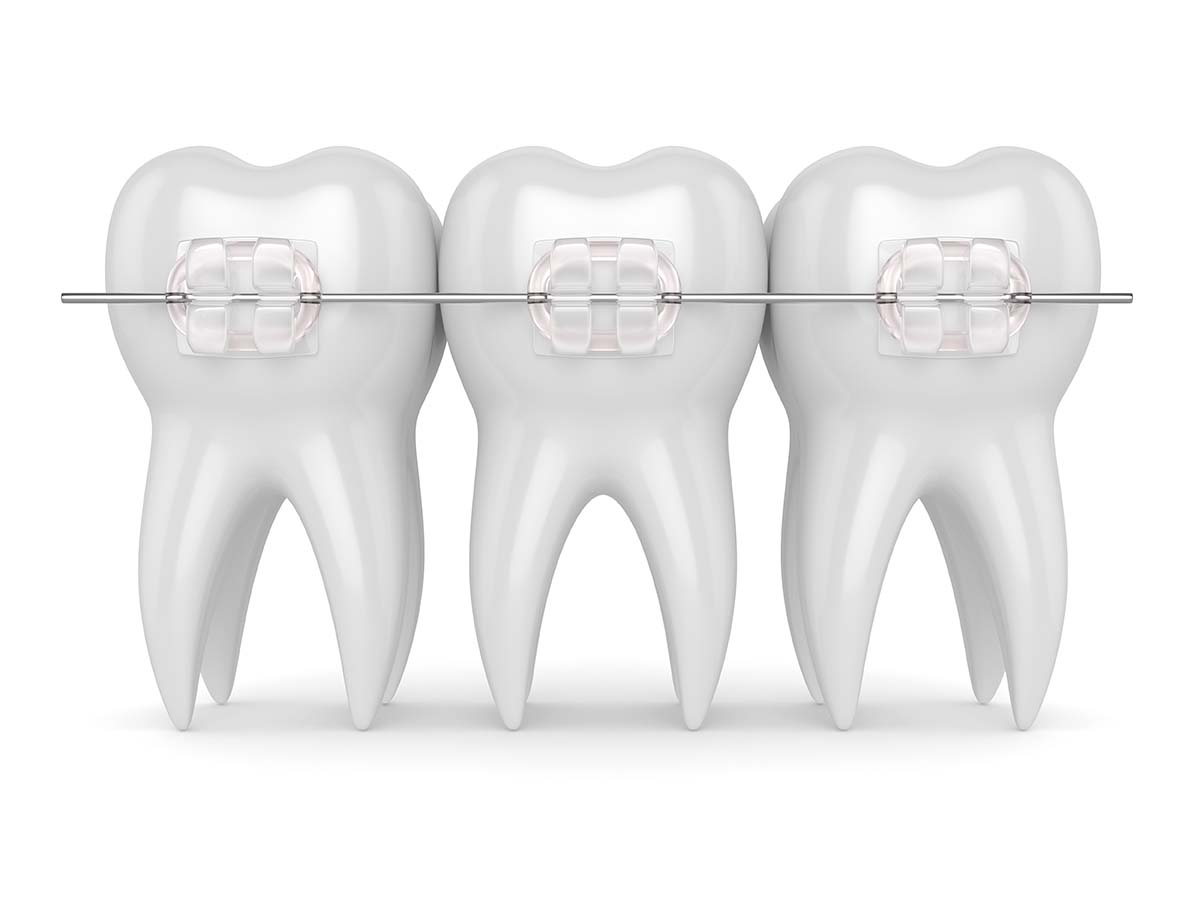 If you're thinking about getting braces, you may have heard some buzz about ceramic braces. But are ceramic braces good? Ceramic braces are a popular option for many people because of their appearance and comfort. However, they come with a few downsides that may make them a less-than-ideal option for certain people. It's vital to take your time and explore ceramic braces pros and cons when deciding which orthodontic treatment works best for you.
This guide will answer the most common questions: Are ceramic braces worth it? Are ceramic braces good? Are ceramic braces more comfortable than metal? We will also discuss the more prevalent pros and cons of ceramic braces to help you make an informed decision.
What are Ceramic Braces?
Clear or ceramic braces are orthodontic appliances that correct misaligned teeth and bite issues. Ceramic braces are similar to metal braces, but they use clear or tooth-colored braces ceramic brackets instead of grey or silver brackets. The ceramic orthodontic brackets are also smoother with rounded edges meaning they lie flattered against your teeth, making them more comfortable, less bulky, and less noticeable.
Are Ceramic Braces Good?
Getting braces ceramic brackets is a great way to feel confident when flashing your teeth with a grin. They are a tried-and-true orthodontic therapy method for correcting misaligned teeth in people of all ages.
When considering the pros and cons of ceramic braces, many persons are becoming more at ease with orthodontic treatment to remedy dental health issues such as:
Overcrowding
Spaces between the teeth
Misshapen teeth
Overbites
Underbites
Crossbites
What is the Process of Installing Ceramic Braces?
Here is a breakdown of everything that goes into installing clear or ceramic braces. The procedure will help answer the question are ceramic braces worth it. And still, help you understand what to expect when Aliana orthodontists talk about ceramic braces pros and cons.
Preparation
Before obtaining white ceramic braces, you will have a consultation with the best orthodontist near me to help you understand ceramic braces pros and cons. They will check your teeth and gums, look at any x-rays, and devise a treatment strategy.
Fitting the Ceramic Braces
Your dentist will use a special paste to clean your teeth. After thoroughly cleaning and drying your teeth, the ceramic bracket will be "glued" onto the front surface of each tooth and then thread a metal wire through each bracket to help keep the brace in place.
Are ceramic braces good for people who fear adverse pain? You may experience minor discomfort during fitting, but it will lessen with time. An orthodontist fitting a ceramic brace on your teeth shouldn't take more than an hour which means half an hour for each arch/row of teeth.
Taking Care of Ceramic Braces
It is common knowledge that proper dental hygiene is crucial. During treatment, the dentist recommends patients wash their teeth after each meal and avoid sugary drinks and crunchy/chewy foods that might harm the brace. Patients are encouraged to maintain good oral hygiene by brushing their teeth twice daily and flossing at least once to eliminate plaque and food particles that may lodge between teeth and gums following treatment.
Removal
Compared to metal braces, which may straighten teeth in as little as a year and a half to three years, white ceramic braces take a bit longer. The braces ceramic brackets wear out more quickly than metal ones, so you'll need to get new ones more frequently as your teeth shift.
As a result of the higher breakage rate of ceramic brackets, the straightening process may slow down due to the need for more frequent orthodontic appointments. Once Elara Orthodontics are pleased with your improved alignment, they will gently break down the adhesive binding your ceramic orthodontic brackets to your teeth will be gently broken down.
Ceramic Braces Aftercare
After completing your orthodontic treatment, your dentist may recommend a retainer to keep your teeth in their new place. An orthodontist can advise you on how long you should wear your retainer each day and night and whether or not you should wear it at all.
Pros and Cons of Ceramic Braces
Clear or ceramic braces are a great option for people who want to straighten their teeth without the hassle of metal brackets. While there are numerous benefits to wearing white ceramic braces, there are also some downsides. Are ceramic braces worth it? Here are several pros and cons of ceramic braces.
Pros
They are Comfortable
Are ceramic braces more comfortable than metal? Ceramic braces are made of a flexible material that can be shaped to fit the contours of your teeth, allowing them to align comfortably. Because they are so flexible, ceramic braces can be placed on the front teeth without worrying about slipping off or breaking. Ceramic orthodontic brackets also have a smooth finish that won't irritate your gums as much as metal braces.
Less Visible
Ceramic braces are not as noticeable as traditional metal braces because they are made from translucent materials. They are then covered with a compound nearly identical in the shade to your teeth, thus reducing their prominence. Most people who use ceramic braces say they don't feel like it gets in the way of their day-to-day activities or academic, professional, or extracurricular achievements.
Applicable to Diagnostic Imaging Procedures
Magnetic resonance imaging (MRI) studies of the head and neck regions need the removal of metal braces. Unlike metal braces, ceramic orthodontic appliances can remain in place during an MRI scan. Nevertheless, metal components, such as stainless steel slots, may require the removal of ceramic brackets before imaging procedures.
They Shift Teeth Quicker than Clear Aligners
Ceramic braces need between 18 and 36 months to straighten teeth. Popular clear-alignment treatments like Invisalign can take a year or longer to operate, even if your teeth don't require much adjustment. Additionally, clear-alignment techniques are ineffective for extreme misalignment or crooked bite cases.
Has Different Colors
When it comes to your smile, you want to ensure you're getting the treatment you deserve. And that means being able to choose the color of your braces. With metal braces, there are only two options: gray or metallic silver. But with ceramic braces, you can pick a hue that's right for you – whether it's a bright pink or a deep purple, etc.
Cons
Less Durable
Ceramic orthodontic appliances are twice as likely to shatter or fracture. Dentists recommend wearing a mouthguard in addition to your braces when engaging in physical activity.
Teeth Enamel Demineralization
Earlier studies revealed that white ceramic braces were more likely to reduce the mineral composition of dental enamel than metal braces. However, this was only a laboratory experiment, and further research is required.
Tough to Dislodge
Unfortunately, ceramic brackets don't bend like metal ones. Thus, they tend to break more often. Accidental ingestion or inhalation of broken ceramic brackets is a severe health risk. Additionally, ceramic orthodontic brackets are more difficult to remove than metal brackets and thus causing extra discomfort.
In some cases, broken pieces of ceramic brackets may be left on the teeth after removal, necessitating the use of dental burs to free the fragments from the enamel. Metal braces are more flexible, reducing the chance of breakage during removal.
Stain Easily
Ceramic braces stain more easily than the average metal one, so you'll have to be extra careful about what you eat and drink. Not only can this make your life a little more difficult, but it can also cost you more money in the long run! These are things to keep an eye on when looking at the ceramic braces pros and cons.
They are Pricey
The full cost of ceramic braces, from installation to removal, is around $4,000 to $8,000. In contrast, the cost of metal braces ranges from around $3,00 to $6,000, and transparent aligners like Invisalign ranges from about $3,000 to $8,000.
Cost of Ceramic Braces
Ceramic braces are a worthwhile financial investment in your smile but might strain your budget. Here are several ceramic braces pros and cons factors that may determine the overall cost of braces in Sugar land for your white ceramic braces:
Office of the Orthodontist
Some dentists charge more than others because they're located in a more expensive area or have more experience with orthodontic treatments. This may offer a better answer to are ceramic braces worth it if they offer better service or expertise. If you want to know the cost of braces in Richmond before scheduling a consultation and know are ceramic braces good, you may call Aliana orthodontists.
Scope of Treatment
How long you need to wear your braces impacts the amount you will pay to your orthodontist. This is because adjustments to braces may be necessary throughout therapy. The expense of orthodontic treatment increases in proportion to the times a patient has to have their braces adjusted.
Additional Expenses
Specialized appliances are necessary for several orthodontic procedures. These appliances can impact the entire cost of aligners. For instance, some people require retainers after having braces placed to correct any lingering teeth issues or keep treatment effects in place. Talking with Elara Orthodontics about these charges upfront can help you avoid any unpleasant surprises later in treatment.
Insurance
Most medical insurance providers cover orthodontic services. Contacting your insurance provider is important to determine whether they will cater to your braces expenses. If you do not have dental insurance, you will be responsible for paying out of pocket the total cost of aligners.
Payment Plans
Some orthodontists offer several payment plans. This may be a viable choice if your insurance doesn't pay for everything or you can't afford to pay the whole sum at the moment. Consult with our orthodontist to learn more about available payment plans.
Do Ceramic Braces Stain?
While ceramic orthodontic brackets are stain-resistant, the elastic ties that attach them to the wire often do. Here are some suggestions for avoiding discoloration of ceramic bracket ties:
Maintain a routine of brushing and flossing after each meal: This aids in eliminating any staining residues left behind by eaten foods.
Avoid anything that might potentially leave a stain: Bracket ties and teeth are easily discolored by foods and drinks, including ketchup, mustard, cola, tomato sauce, and red wine.
Avoid smoking: Smoking can discolor your teeth and braces with a yellowish tint.
Avoid using whitening toothpaste. Using whitening solutions can make the visible portion of your tooth appear whiter than the underlying dental structure.
Visit your orthodontist frequently: When necessary, your orthodontist can repair discolored ceramic brackets or ties.
What Color Options are Available?
Your clear or ceramic braces will allow you to switch up the look of your orthodontic treatment by enabling you to switch out the color of each bracket and wire, as highlighted in the ceramic braces pros and cons.
Brackets
Ceramic orthodontic brackets adhere to your teeth and are often white.
Archwires
These wires are bent to fit snugly around your teeth. They link the braces ceramic brackets together and exert pressure on your teeth to move them into alignment. They often come in silver, white, or frosted to match commonly used bracket colors.
Elastic bands
Braces ceramic brackets have hooks where the elastic bands may be fastened. They assist in maintaining the archwire's proper position and provide the necessary tooth and jaw movement for the treatment plan. These bands are available in a wide range of colors. You may go with tones that complement your complexion, or you can be wild and choose a rainbow design to cover your whole grin.
Is There a Non-Braces Option for Straightening Teeth?
A dentist can straighten your teeth without braces. Nevertheless, the specifics of your treatment requirements are what determine this. When considering ceramic braces vs Invisalign, Invisalign treatment is typically the best option for people who wish to correct minor orthodontic abnormalities such as minimal protrusion or tiny gaps. However, if your orthodontic issue is more complex than what aligners can handle, your dentist may recommend a different type of braces. Your greatest options may include lingual braces vs. ceramic braces. You may also want to consider clear braces vs ceramic brace. Although metal braces need the most effort, they are still the best solution for the most difficult orthodontic issues. Before deciding between ceramic braces vs Invisalign, clear braces vs ceramic brace, or lingual braces vs. ceramic braces, it's crucial to discuss your options with the best orthodontist near me to ensure you get the finest for your health.
Who are the Best Candidates for Ceramic Braces?
Braces ceramic brackets are your best bet if you've finished growing up and have a full set of adult teeth. This facilitates a quick adjustment and reduces the risk of the brackets breaking under the pressure of tooth movement. Clear or ceramic braces are also suitable for people with sensitive teeth, as they're less likely to irritate them than metal ones.
If you're considering braces, it's important to consult your orthodontist about the pros and cons of ceramic braces before making any decisions about treatment options. They will help you determine – are ceramic braces good to fit your needs and lifestyle.
Bottom Line
Ceramic braces are a good option for those looking for the most high-tech and aesthetically pleasing orthodontic treatment. But are ceramic braces worth it? There are several advantages of ceramic braces, such as being ideal for patients with difficulty with traditional metal braces. However, clear or ceramic braces have some drawbacks as well. The ceramic cost of braces in Richmond is more than other types of braces, and they can take longer to finish treatment because they require more time in-office during adjustments.
If you consider the pros and cons of ceramic braces and the advantages of ceramic braces outweigh the drawbacks, then these braces could be the perfect choice for improving your smile's appearance and giving you confidence in every situation.
However, if you still can't decide whether white ceramic braces are right for you or your loved one, talk to your dentist or orthodontist about your options and the cost of braces in Sugar land today! They are the best professionals to help you know, "Are ceramic braces worth it?" "Are ceramic braces good for you?"